Further Considerate Constructors Scheme Success for Singlegate School
Published 1 November 2017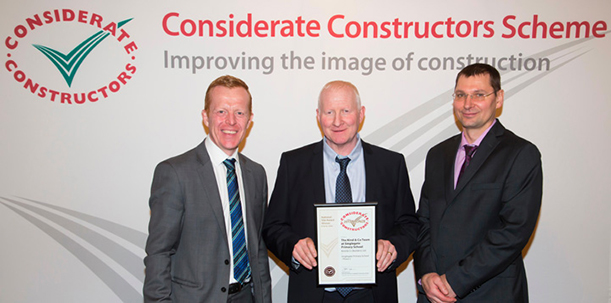 The Singlegate Primary School project team has won Bronze in the Considerate Constructors Scheme 2017 National Site Awards.
The award citation states, "This site has demonstrated an extraordinary commitment to improving the image of construction through adhering to the Scheme's five-point Code of Considerate Practice - Care about Appearance; Respect the Community; Protect the Environment; Secure everyone's Safety; Valuing their Workforce." It continues, "The site was a credit to Kind & Co (Builders) Ltd and to the site team."
Team representatives Brad Bendelow, Tony Rapley and Viktor Radko received the award at a special luncheon at the Plasterers' Hall in the City of London on the 28th March 2017.
This award recognises the importance Kind & Company places on its community, its people and the environment. We extend thanks to everyone involved with the project.
Further information about the Singlegate Primary School project is available[Here].
Futher information about the Considerate Constructors Scheme is available [Here].