Kind Volunteer for National Tree Week
Published 5 December 2022
Last week a team of our green fingered Kind volunteers were delighted to be invited by the Tree Council, to join them and representatives of the Adhurst Estate Allotment for a day-long tree planting project marking National Tree week, to celebrate the start of the winter tree planting season.
The Adhurst Estate Allotment is a community hub located in the heart of the South Downs, Hampshire. The facility has a wide range of allotment plots serving 115 local people over a 5-hectare site. As well as an opportunity for the local community to grow both edible and ornamental plants, the area also has orchards, wildlife hedgerows, wildflower areas and new tree plantations with a tree propagation area attracting an abundance of wildlife.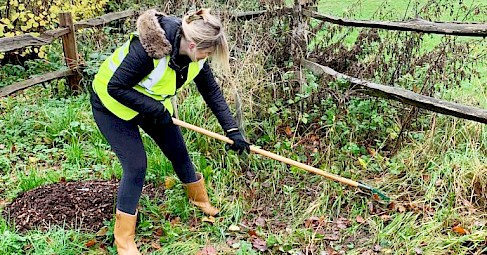 As company partners supporting the Tree Council, we were excited to get involved with this project which focused on improving habitat connectivity for local wildlife species in particular dormice. To do this, our team along with a 30 plus volunteers from across the country took part in several key activities throughout the course of the day; this included creating a better, more biodiverse area for the hedgerow around the site and introducing a new 'mini-forest'.
As well as this our team got stuck in to caring for the orchard and meadows by raking and clearing vegetation and mulching the perimeter of the site. They cleared dead hedges and even prepared the ground by laying turf ready for the installation of a Miyawaki forest plot, which was commissioned by the local authority to increase biodiversity in this picturesque area of Hampshire.
Whilst it was of course chilly on the day our team were well looked after by our friends at the Tree Council, and there was a real sense of comradery and humour present throughout the day. This was topped off nicely with a lovely team chat round the campfire!
Our team had a great day out celebrating the start of the tree planting season and were pleased to help with this project. We look forward to working with the Tree Council on new and upcoming projects and future opportunities.