Larkfield Extra Care Sheme is 'Topped Out'
Published 1 March 2018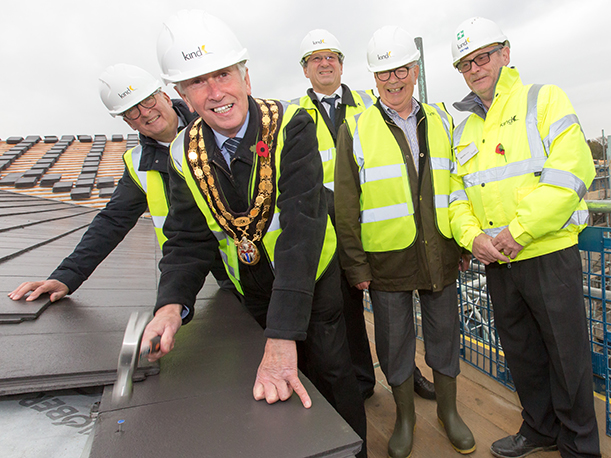 As its spring 2018 completion date approaches, the new Martin Square extra care housing scheme reached a key milestone in the development last week, as the highest point of the structure was completed. Representatives of The Abbeyfield Kent Society and Kind & Company, came together on 7th November to mark the key milestone and place a tile on the roof to 'Top-Off' the project.
Joined by guests, including the Mayor of Tonbridge & Malling, donors, The Lawson Trust, after whom the building was named, invitees were taken on a tour of the building before placing the tile on the roof and warming up with a cup of tea, whilst hearing about the plans.
Once complete, Lawson House will comprise 74 one and two bedroom apartments, with on-site care and support available for over 55s. Twenty of the apartments will be reserved for veterans in need of support. Extra care housing was designed to enable older people to live independently in their own homes, with access to shared facilities and care and support on site.
Photo: l-r: Zach Miles (Chair, Abbeyfield Kent Society); Cllr Roger Dalton (Mayor, Tonbridge and Malling Borough Council); Bill Bassenger (Joint Managing Director); Philip Thomas (Chairman, The Lawson Trust);
Kevin Jones (Site Manager).