Leading The Business Forward
Published 4 July 2023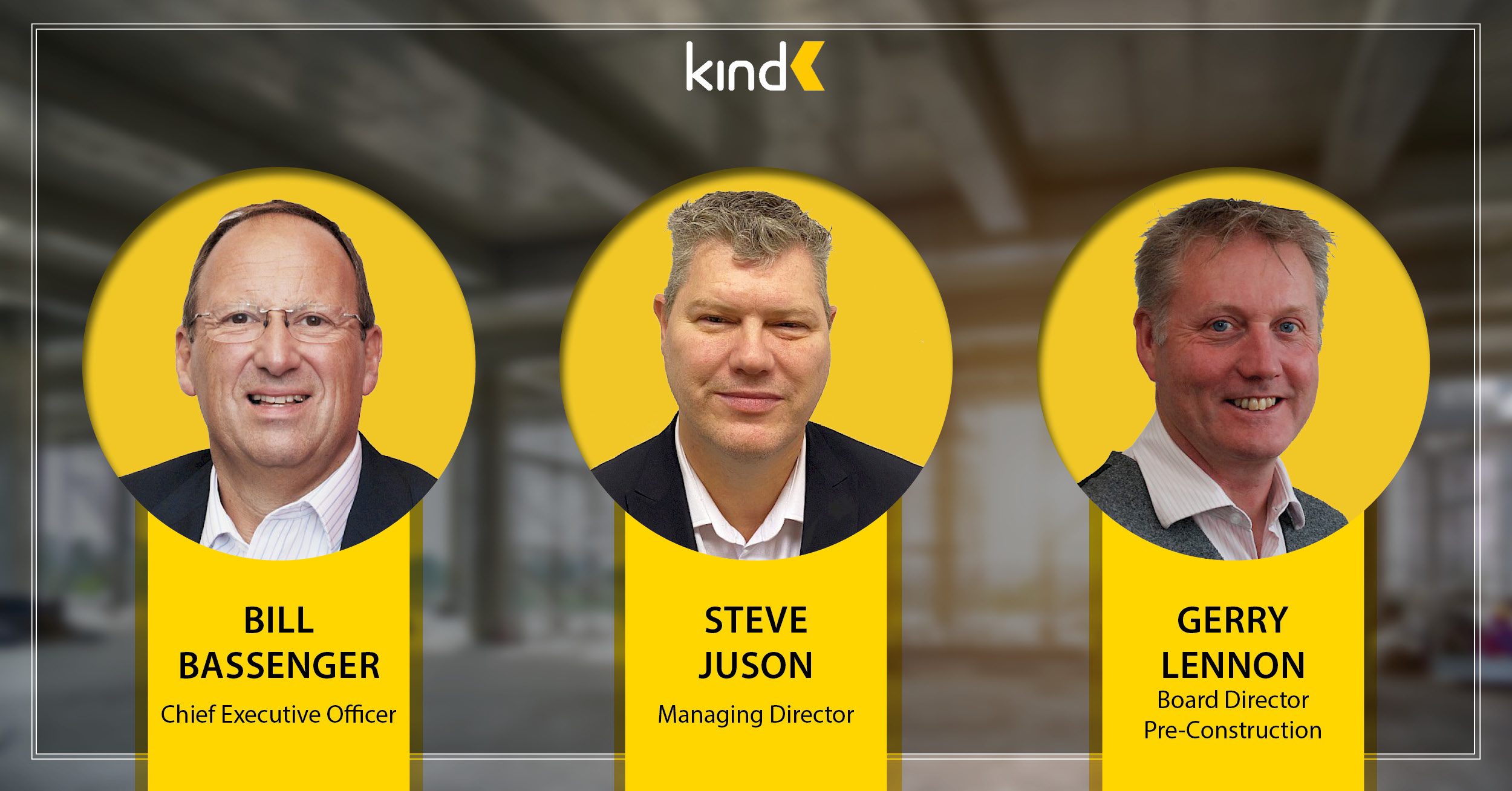 This week we are celebrating the first week in post for Bill Bassenger (MCIOB), who has moved up to the position of Chief Executive Officer. Following this 'step-up' within the company is Steve Juson, who this week begins his first week as Managing Director, after nine successful years leading our delivery team as Operations Director (overseeing all commercial and operational matters).
Lastly, we are also congratulating Pre-Construction Director Gerry Lennon, who now sits on the Board of Directors as of this week. All three appointments support our organisations strategic plan for organic profitable growth.
Bill Bassenger - Chief Executive Officer
Bill Bassenger joined us in 1986 as a Surveyor / Projects Manager, having previously carried out his training and Quantity Surveying exams prior to joining Kind. Rapidly progressing through the company, Bill moved into the position of Director in 2000 and in 2006 was appointed Joint Managing Director.
Bill's 37 years-experience with Kind means he is well placed to continue to oversee the strategic growth of our organisation. Within his role as Chief Executive Officer, Bill will continue to chair the Board, making decisions, and supporting key functions within the Business, whilst also continuing to steer our core business values (our Kind Effect).
Steve Juson - Managing Director
Initially joining in 1987 as a Trainee Surveyor, Steve's success to date is based on a wealth of experience, supported by his qualifications and professional memberships, including being an associate member of the Royal Institute of Chartered Surveyors, the Chartered Institute of Builders and the Chartered Management Institute.
Steve has a thirst for knowledge, which over the years has shaped his construction expertise, he understands the value that modern construction methods and technological advancement bring to the built environment, and for many years has championed our organisations approach to sustainable project delivery.
Throughout his career, first as a Surveyor (where he gained a BSc in Quantity Surveying), then progressing to Projects Manager, Senior PM and lastly as Operations Director, Steve has been responsible for the successful delivery of many of our most high-profile projects, with a particular skill for managing complex and challenging schemes, which will hold him in good stead for the challenges ahead.
In response to his appointment as MD Steve commented:
"It's an honour to be Managing Director of a company I have worked for, for over 36 years and has become a second family. I am looking forward to the challenges ahead, in an everchanging environment, supported by a dynamic and talented team, whilst maintaining our very high standards".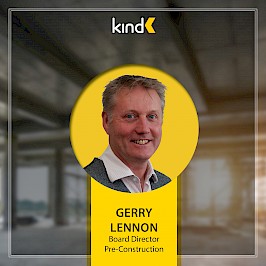 Gerry Lennon - Pre-Construction Director & newly appointed Board Member
Over the last six years, Gerry has successfully expanded our Pre-Construction team and is looking forward playing his part in strategic decision making as a valued Board member.
His experience in construction extends to 37 years in industry. Initially training and becoming a Site Manager and eventually a company Director of his own business before joining Kind in 2016.
As well as being awarded fellow of the Chartered Institute of Builders in 2012, Gerry is also proud of the period in which he dedicated many teaching hours to inspiring the next generation of construction talent, as he lectured in the Built Environment at a local FE college for a number of years.
To read more about Bill, Steve and Gerry's roles and their experience why not check out their profiles below: