Marking a Milestone with the Mayor of Newham
Published 12 August 2022
This week we were excited to welcome to our site at Leather Gardens, the London Borough of Newham's Mayor - Rokhsana Fiaz OBE. The mayor assisted our team in laying the final brick at the top of this five-storey apartment block, marking a significant milestone in the delivery of this scheme.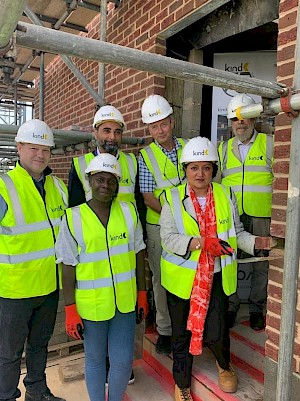 This development will bring 21 new homes to this area of the borough and contributes toward the council's current target to deliver 1,000 affordable homes for its residents.
Leather Gardens will be built to a Passivhaus standard, meaning the homes will also meet the council's aim to deliver energy-efficient buildings within the borough. At Kind & Co, we are members of the Passivhaus Trust and have been delivering highly efficient buildings across all our sectors for decades. Additionally, in recent years we have heavily invested in Passivhaus training for our delivery teams to ensure they are experts in constructing buildings to this standard.
Commenting on the Mayor's visit to our site on Monday, our Operations Director Steve Juson said: "We were delighted to welcome the mayor, ward councillors and guests on to site today to mark this significant milestone in the construction of this development. We are particularly proud to have the London Borough of Newham as a client and wholeheartedly support their vision to deliver more homes to a Passivhaus standard. At Kind, we are passionate about the benefits of a fabric-first approach to building quality, affordable homes. We look forward to welcoming everyone back to celebrate once Leather Gardens is complete and residents can move into their new family homes".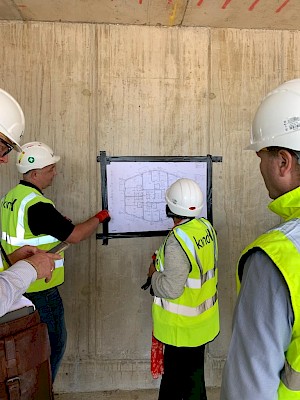 This project is due for completion in Summer 2023.