Topping out at Gideon Road
Published 9 March 2022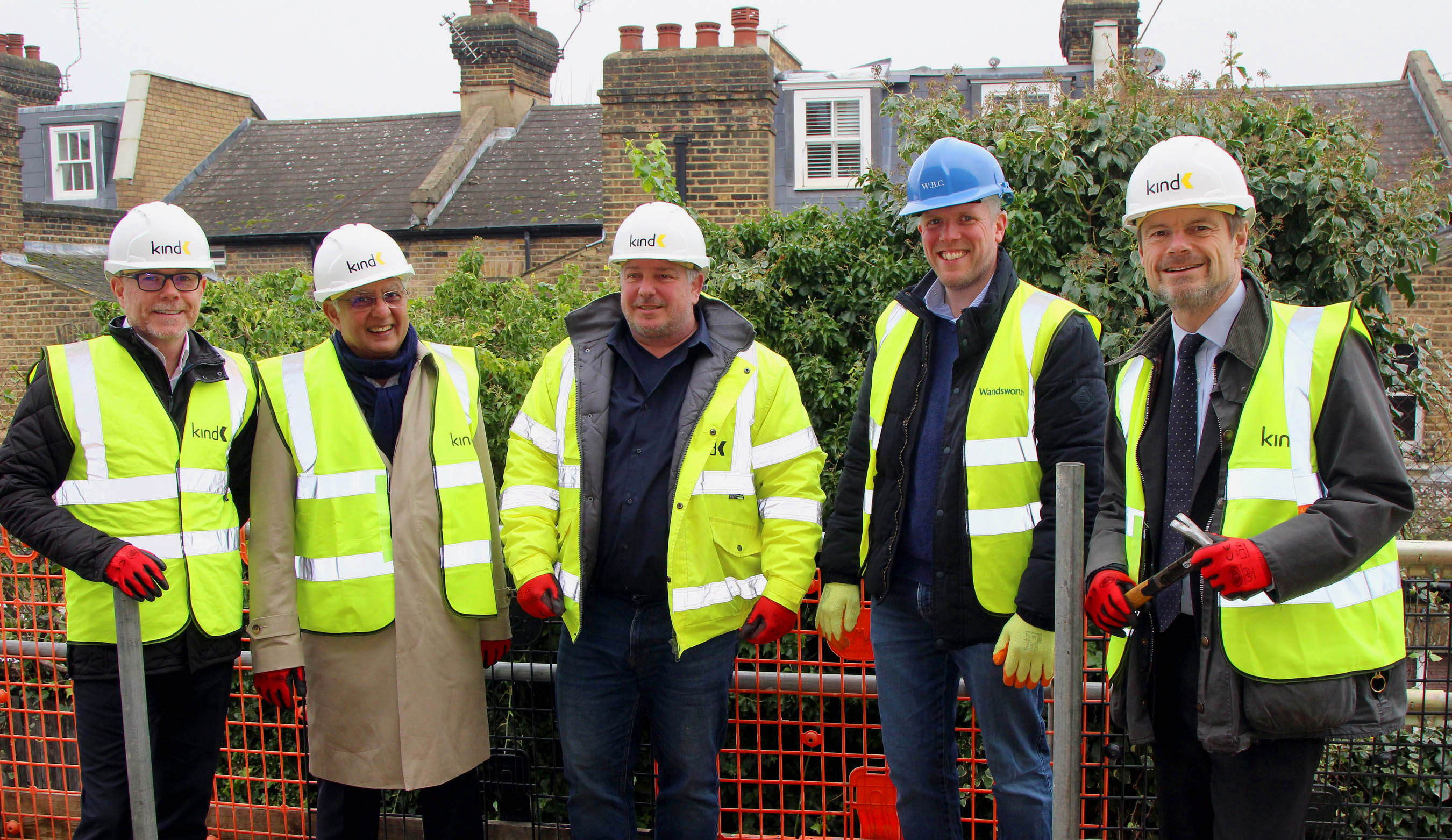 Last Thursday, we were delighted to welcome the leader of Wandsworth Council Cllr Ravi Govindia, and Wandsworth's Cabinet Member for Housing, Cllr Jonathan Cook to site at Gideon Road, as we 'topped out' marking a significant milestone in the construction of this project.  
Both Cllr Govindia and Cllr Cook assisted our site team, as they ceremoniously hammered in the last nails, completing the final section of roof in the build. 
Once completed this scheme will deliver 18 quality social rented homes across four blocks.  The homes will be occupied by residents local to Gideon Road, as the council continue in their commitment to regenerate the area. 
Some of the key features on this site include electric charging points for vehicles and two of the new blocks will have PV panels; there will be some soft landscaping to the area as we plant new trees and hedges.  We will also be achieving 35% above Part L Building regulations for this scheme. 
Our Joint MD Tony Battle commented: 
''I was delighted to welcome back the leader of Wandsworth Council, Cllr Govindia who joined me when we broke ground on site.  It was a pleasure to also welcome Cllr Cook, as we marked this milestone in the build last week. 
During the visit I was pleased to see the great interest both Cllr Govindia and Cllr Cook had as we talked about the fabric first approach that applies to this scheme, and how this will impact further projects.  The result of this approach will help with the climate emergency and contribute towards tackling fuel poverty both now and in the future. 
We look forward to returning to site once complete to welcome the residents into their quality new homes"
Cllr Ravi Govindia said: 
"It is fantastic to see such a variety of home sizes on a rather compact site. As a council, we emphasise the need to deliver housing that suits a broad range of needs and with the variety of homes on offer here, including two wheelchair accessible units, this is a great example of Wandsworth doing just that."
We also heard from Cllr Jonathan Cook who commented: 
"I am delighted to see this project reaching the next stage of its regeneration from a brownfield site, previously occupied by disused garages, to becoming much-needed housing for local residents and workers. The site makes excellent use of space to provide high-quality homes that will suit a range of needs."