Contract awards – Kind to deliver Passivhaus for LB Newham
Published 29 June 2021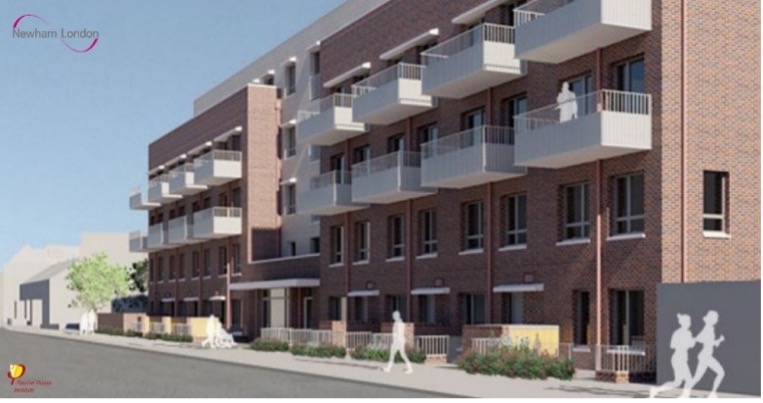 We are delighted to be able to share details of our recent contract awards to design and build 2no. five storey residential blocks for the London Borough of Newham.  Providing 50 units in total across both sites the combined contract value for these schemes sits at just under £16m.
Throughout our 76 years in operation, we have had a strong history working in Newham to deliver a wide variety of schemes, including the installation of the Olympic viewing gallery prior to the 2012 London games.   
Fast forward to 2021 and we are particularly excited to be back working with the borough to deliver these projects, both of which are part of a wave of new homes the LB Newham have committed to build to a certified Passivhaus standard in their current delivery programme.  
The larger of the two scheme's Sutton Road comprises of a mix of 1,2 and 3 bed units, including wheelchair accessible flats.  Providing 29 new homes for the residents of Plaistow.        
The second site, Leather Gardens, located just outside of Stratford town centre, will consist of 21 new flats with a mix of 1-4 bed units, including wheelchair accessible flats.
Both blocks will be built in reinforced concrete frame with a brick and block façade and will include landscaping and associated external works.
Although these are the first flats Kind & Co will be delivering which are to be officially certified by the Passive House Institute, our experience in the delivery of energy efficient buildings, and particularly buildings with similar attributes to that of a 'Passivhaus standard' goes back much further.
Nevertheless, in preparation for the delivery of Sutton Road & Leather Gardens we have invested in additional expert training to ensure our delivery teams are fully conversant in the necessary requirements to deliver to this level, and we have also developed our operational infrastructure to ensure we can continue to deliver to this standard for more of our clients in the future.
Our Joint MD Tony Battle commented: 
'We are pleased the LB Newham selected Kind & Co to build out these two Passive House Institute accredited schemes.  We share their commitment to build quality homes with these environmental credentials.
Passivhaus means – 'to design and build quality & then test to prove it', according to a statement made by our accredited designer Peter Ranken of Tooley Foster Architects, which he delivered in his preliminary design meeting to our project teams.  So, building these homes allows us and our design team to continue to deliver to the very highest standard with the added benefit that the rigorous qualitative tests required to achieve certification, are proof of our passion to build quality, sustainable buildings'.
We look forward to working with LB Newham to deliver both Sutton Road and Leather Gardens.  Both schemes will complete in 2023.